Man Reportedly Dies from Injuries Sustained in Austin Shooting

The news is reporting that one victim of the shooting in Austin, Texas has died from his wounds. His name is reportedly Douglas John Kantor, who was 25 years old, syncing up with his Ordinal gematria:


The names Douglas and Kantor both sum to 25 as well.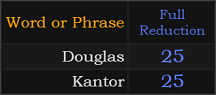 ---
The name Kantor also has nearly-perfect overlap with Murder.

His common name, Doug Kantor, aligns with Austin Texas, where he was shot.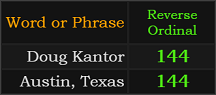 ---
The article noted that he died at 12:01 pm.

1201 is the 197th Prime number. This was another number I mentioned in my original post.