Shooting at a Publix in Royal Palm Beach, FL

This shooting in Royal Palm Beach, FL falls on the same date as this year's Annular eclipse:

State of Florida has matching 522 gematria with Annular.

Consider the name Royal Palm Beach in light of the fact that today would have been the 100th birthday of recently-deceased Prince Philip, the patriarch of the Royal family.
---
Ron DeSantis
There are 223 synodic months in the Moon's Saros, or Eclipse cycle. This is a number connected to governor Ron DeSantis today.



223 is the 48th Prime number
The shooter's name was Timothy J.
Wall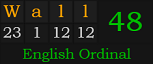 In English, the word Eclipse sums to 222.


---
Publix Super Markets was founded by George W. Jenkins.

The Moon has Thirteen lunar phases every couple of years.


Today is 99 days after Florida's anniversary:

---
"Moon" Riddle
Florida also has matching Jewish gematria with Moon.

In Satanic gematria, Moon sums to 197.

This is the Ordinal value of both Royal Palm Beach, Florida, and governor DeSantis's full name:

George W. Jenkins was born in 1907. His full name was George Washington Jenkins.

269 is the 57th Prime number
The Moon has a 57° range of declination


Today has matching numerology with the English values for Moon:


Today is 51 days after another shooting at a grocery store in New York:

---
The shooter's name has Ordinal gematria of 90.

This again matches The Moon, as well as the Reduction value of Royal Palm Beach Publix.

The Moon's equatorial diameter is 2160 miles
This brings us back to Publix's founder.
Jenkins was 1062 months old when he died:

---
The shooter's full name as listed by the mainstream media yields a 156 in Reverse.




Florida is the home of Publix, which is headquartered in Lakeland. That's the city where Jenkins passed away.


---
Both the shooter's common and full names provide a 108 in gematria.

This is another highly-significant number to the Moon.