Royal Family Welcomes New Baby Girl Lilibet
Lilibet Mountbatten-Windsor (Wiki)
Harry & Meghan delivered a new addition to the Royal family on June 4th, written 6/4.


The 64th Prime number is 311
The couple resides in
Montecito, California

Harry and Meghan's first baby Archie Mountbatten-Windsor was born in 2019. I find it pretty interesting that in that post, I connected Archie's birth to the 2021 total lunar eclipse, which just occurred on May 26th, barely one week before the birth of his sister Lilibet.
---
Royal Wedding
Prince Harry was born on September 15th, written 9/15. He got married to Meghan Markle on the date written 5/19, when she was 9 months, 15 days after her birthday: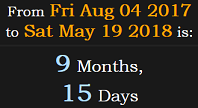 This is the Reduction value of their firstborn son, as well as their grandfather who just died.

Actor Clarence Williams died the same day as Lilibet's birth. Clarence Williams was in the film Purple Rain with Prince – fitting for a connection to the Royal Family. Williams' death was announced today, June 7th, which was Prince's birthday. Purple is a color associated with royalty.
---
Queen Elizabeth II
The name "Lilibet" is the Hebrew version of "Elizabeth", which is of course a tribute to the current elderly Queen Elizabeth II.
Lilibet's birthday falls 6 weeks, 2 days (or 44 days) after Queen Elizabeth's:


She's also named after Princess Di.


---
The baby was born at 11:40 am

Harry and Meghan currently live in Montecito, CA.

Lilibet was born on the 155th day of the year, syncing up with her mother's Ordinal gematria:




They moved there in 2020.

---
Princess Diana
Lilibet's middle name is Diana in Harry's mother, Princess Diana.



Diana's birthday had Primary numerology of 88:

Her middle name Frances is very intriguing. The very same day Lilibet was born, we got news of the death of Francis Lee Bailey, which was connected to Pope Francis. See my post on that story.
---
Prince Philip
In April, Queen Elizabeth's spouse Prince Philip passed away at the age of 99.


Archie was born in 2019 on

5/6


The 56th Prime number is 263

---
In Ordinal, Prince Philip sums to 135.


The 135th Prime number is 761

---
Oprah Interview
Back in March, I made this post exploring the numerology of Harry & Meghan's interview with Oprah Winfrey.
It's worth pointing out that the date of the interview had identical numerology to the date of Lilibet's birth:


The new royal baby was born a span of 2 months, 29 days after the interview and 2 years, 29 days after the birth of her brother Archie:

229 is the 50th Prime number
Archie had Primary birth numerology of 50: