Lil Nas X Hosts SNL Following "Satan Shoes" Sale

The incident that helped coined the term wardrobe malfunction involved Janet Jackson, who was born in '66.

In late March, Lil Nas X began selling his Satan Shoes. A total of 666 pairs were made.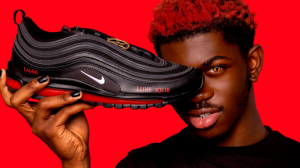 The number 666 flipped upside-down is 999.

Lil Nas X was born on the 99th day of 1999, written 4/9/99:

Last night, he performed on the 909th episode of Saturday Night Live:

The 99th prime number is 523
The episode ended on 5/23
---
His Satan Shoes were released on the 88th day of the year:

666 is the number of the Beast.

Lil Nas X had a Wardrobe malfunction when his leather pants split during the song Montero.

He was 8080 days old:


Including his real name, Montero Hill – Lil Nas X sums to 88:
The episode was hosted by Anya Taylor-Joy.

---
Satan Shoes
Lil Nas X's real name is Montero Hill. When combined, this has Ordinal gematria of 232, syncing up with the Latin value of Satan.

Notice how "Luke 10:18" is written on the shoes. Many people believe the true number of the Beast is actually 616. This verse has Ordinal gematria of 616 and a Reduction value of 283.

Without "Luke 10:18", the verse has Latin gematria of 2283, very similar to the value of 666 in the same cipher.

---
In Ordinal, Satan sums to 55, as does Lightning and Heaven.



His Saturday Night Live appearance fell 55 days after the shoes were released:

Earlier this year, Super Bowl 55 completed the NFL season. The Super Bowl is where the term "wardrobe malfunction" was first coined.

Janet Jackson just turned 55 years old
---
His "wardrobe malfunction" occurred exactly 903 weeks after Super Bowl XXXVIII, when the incident involving Janet Jackson occurred:


Consider that the show is called Saturday Night Live, for the day named after the planet Saturn.

---
Birthday / Debut
He has birth numerology of 131 and 41, matching the Reverse values of The Devil:



6

+

6

+

6

= 18
Lil Nas X, whose real name is Montero Hill, burst into the music scene in '18 with his hit single Old Town Road.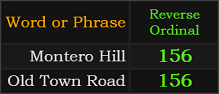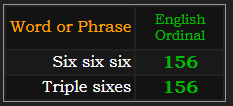 His SNL appearance also featured a song called Sun Goes Down.
---
"Revelation" Riddle
Lil Nas X's "Satan Shoes" are a modification of the Nike Air Max 97.
This 121 is found in the phrase Satan Shoes, which is a near-supermatch with Revelation.

The shoes were released on March 29th, the date written 29/3, like 293, a number that has matching gematria with Revelation.


Janet Jackson's initials are J.J., or 10-10
---
March 29th is the date leaving 277 days in the year: