Death of Prince Philip – The "Time" / "Revelation" Riddle
Prince Philip was born on June 10th, or 10/6 in the UK.

Ben Roethlisberger was born on a date with Primary numerology of 106, the 61st day of the year:

61 is a number of Time. Consider the 283 gematria of the big clock in the sky, The Moon.

---
In Ordinal, the word Time sums to 47. This is the Latin/Jewish value of Ben.
The Doomsday Clock was introduced in the year '47.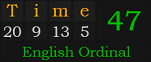 Prince Philip was the husband of Elizabeth and Duke of Edinburgh.


Next in line to the throne is Prince Charles, who was born on a date with 47 numerology, on the date leaving 47 days in the year:

Prince Philip died 47 days (or 1 month, 17 days) before the "Revelation" eclipse of May 26th:


The number 117 is connected to 13 and 63, two important numbers I mentioned in my initial decode.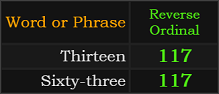 ---
Roethlisberger in London


The game was played on a date with 44 and 26 numerology:


The number 44 and the date written 4/4 both sum to 144 in Ordinal.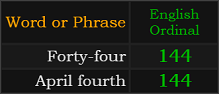 It was Ben's 47th career loss in his 144th game, both including the playoffs.

---
NFLUK Tweet

On July 2nd, 2013, the date written 2/7 in the UK, the NFLUK Twitter page posted this Tweet to promote the game. It featured an image of Big Ben Roethlisberger transposed over the Big Ben clock tower: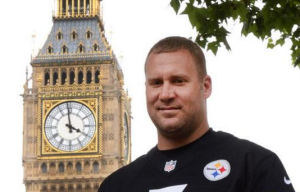 The name Clock Tower was changed in '12 in tribute to the year '21.


The 227th Prime number is 1433

---




Roethlisberger has 74 career losses at the time of Philip's death.


---
Prince Charles
The big "Revelation" Eclipse happens on the 146th day of the year:



Charles is the Prince of Wales.


Revelation is Book number 66 of the Bible

There are 404 verses in Revelation.



---
66 is the 11th Triangular number

Roethlisberger was born on 3/2. The 32nd Prime number is 131.

The 131st Prime number is 739

---
Miscellaneous

This is a lot like the number 265. Remember this year's "Revelation" Eclipse occurs on 26/5.

Ben Roethlisberger was born 265 days (or a span of 266 days) after Prince Philip's birthday:


---

The number 1331 is not just the ultimate eclipse number…it's also connected t The Return of Jesus Christ.

Recall how we recently had the Ever Given get stuck in the Suez Canal. on a date with 13 / 31 numerology:


The boat was freed on 29/3.