Tom Brady Signs Extension With Buccaneers

Earlier today, I pointed out how Hugh Grant was "randomly" in the news. He turned a span of 22,100 days old today, syncing up with his full name: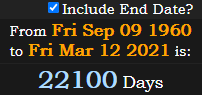 That post talked about the "arch eclipse" riddle with Hugh Grant and Liz Hurley, who was born the year the arch was completed and celebrated her birthday on the day it was inaugurated.
Tom Brady is connected to the arch eclipses – his seven Super Bowl victories are separated by almost exactly 19 years, or one Metonic cycle. The first Super Bowl came against St. Louis (Missouri), and the last one was against Kansas City (Missouri). The Gateway Arch is in the state of Missouri.
Brady is 221 days after his birthday today:

His full name sums to 259 in the alphabetic order.

Today is a span of 259 days after the anniversary of Hugh Grant's arrest: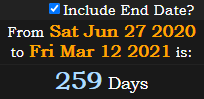 ---
Brady is now signed through the 2022 season, meaning he is likely to make his final appearance in the NFL Playoffs that occur to begin the year 2023.

---
Not only does the name Brady match Hugh Grant, but his full name matches both Hugh Grant and Grant's recent character's name in Death to 2020: