Hugh Grant in the News for (Seemingly) No Reason

This story about a Cheater was published on March 12th, or 3/12.

You know you're having a slow day when you find yourself creating an account on Fox News in order to try to wake people up.
This story about an incident from over 25 years ago is in the news today. Why? Of course, the answer is numbers.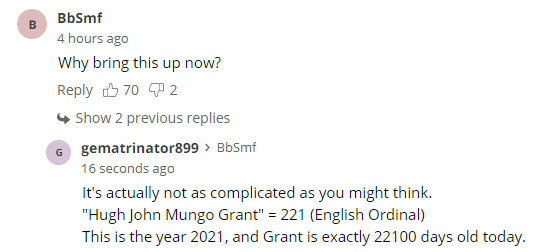 Hugh John Mungo Grant is in his 22,100th day since birth today, the date of this "random" news story here in 2021: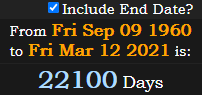 The prostitute he got caught with was born on the 221st day of the year:

---

This story about Solicitation was published on a date with Primary numerology of 56:

Today is 90 days before Liz Hurley's 56th birthday:


Hugh Grant was born on September 9th, or 9/9. That's the same birthday as popular singer Divine Brown. "Divine Brown" was the name of the prostitute Grant allegedly solicited.
---
Arch Eclipse Riddle
Notice how Liz Hurley's birthday falls on June 10th, the date of the first Arch eclipse. The St. Louis Arch was built as a tribute to the 2021 total solar eclipses, which explains why the synchronicity with 221 above is so important.
As pointed out in that linked post, the Gateway Arch National Park is laid out like the female anatomy, representing a womb.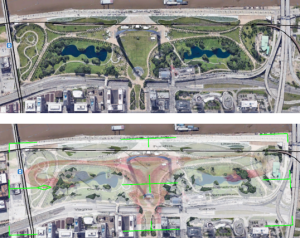 Of course, a pregnancy inside the womb lasts Nine Months. That's the name of Hugh Grant's film that was mentioned in the news article.


Construction of The Arch, which is 630' tall and 630' feet wide, began in the year '63. This number is stamped all over Divine Brown.


---


Notice both phrases also sum to 74. The singer Divine Brown was born in the year '74. That arrest occurred 74 days before Grant's birthday:

---
More on "Divine Brown"
Divine Brown's best accomplishment according to her biography was a Juno Award in the year 2009.

When Hugh Grant was arrested, the singer Divine Brown was 1085 weeks old. She was formerly known as Divine Earth Essence:


Tennyson Foss is the name of the character Hugh Grant played in the recent TV special Death to 2020.
The singer was born on a date with Primary numerology of 111:


The prostitute Divine Brown's real name is Estella Marie Thompson.

Thompson was also born on the 9th of the month. Her birthday falls exactly 107 months after Hugh Grant's and a span of exactly 50 months after Liz Hurley's: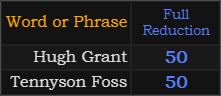 The former Sex worker was born on a date with Primary numerology of 105: