Tiger Woods / Caroline Kennedy / The Rock
There appears to be a riddle with planes, crashes, and the U.S. presidency that has been going on for quite some time. Last year, I pointed out the alignments with Nikki Haley, who was on Boeing's Board of Directors, to the plane crash in Iran. She used to serve on Trump's cabinet, and Donald Trump is freakishly-connected to plane crashes in New York City.
Another woman who has recently served on Boeing's Board of Directors is Caroline Kennedy, the last surviving child of JFK and Jackie Kennedy. She stepped down from the board on Drew Brees' birthday, 1/15, syncing up with the numerology of her father's assassination:


Tiger was driving a Genesis, which has perfect overlap with Kennedy.

The first verse of Genesis sums to 777, a very ritualistic number.



Boeing made big news this past week after one of its 777 aircraft experienced an explosion in the engine, forcing an emergency landing shortly after takeoff. As a result, dozens of 777 planes were grounded.

7

×

7

×

7

=

343

Tiger's crash near Los Angeles, California fell 343 days before the first day of the Year of the Tiger:

---
"Genesis" = 33, "Kennedy" = 33. On the date of his first famous car crash, Tiger was a span of 33 years, 333 days old. On the date of his second crash, Caroline Kennedy was a span of exactly 3300 weeks old:

Notice how the first accident was on November 27th, which was the 52nd birthday of Caroline Kennedy, the daughter of a president: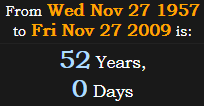 On the date of Tiger's crash yesterday, Dwayne "The Rock" Johnson, whose May 2nd birthday is written 5/2, was endorsed for President:

Caroline resigned from Boeing on the one-year anniversary of the death of The Rock's father, whose real name was Wayde.

The Rock just turned 2547weeks old on the date of the crash. The day before his crash, Tiger spent the day with Dwyane Wade: