Hank Aaron Dies @ 86 – Wisconsin-Georgia Riddle Continues
In my last post, I pointed out how Ted Thompson, who was the General Manager of Wisconsin's Green Bay Packers, died in his Atlanta, Texas.
Atlanta is a major city in the state of Georgia, which is infinitely-connected to Wisconsin due to these being the only two states with 44 gematria. In fact, both states have governors with 44 gematria who were elected on the same day.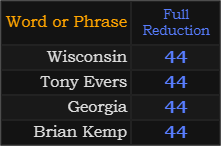 Both states had protests at their capitol on April 24th, 44 days after the pandemic was declared. They were the only two states to complete hand recounts after the presidential election. Remember how former Packers quarterback Brett Favre was traded from Atlanta?
---
Ted Thompson was the man who AARON Rodgers. Today, Hank AARON, one of the greatest athletes in American sports history, died.
Hank Aaron played his entire career in Wisconsin and Georgia. He started with the Milwaukee Braves, who moved to Atlanta, before moving back to Milwaukee to play for the Brewers.
Both teams retired his number, which is, of course, #44.

Hank Aaron died on 1/22
Aaron Rodgers was born on 12/2
Hank Aaron died at the age of 86.