Giannis Antetokounmpo Signs $228 Million Deal w/ Bucks

Today's news falls on a date with Primary numerology of 67: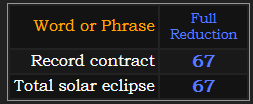 ---
Eclipse Code
Giannis's deal is the largest in NBA history. It does not appear to be a coincidence that this happened within one day of the 2020 total solar eclipse.
A solar eclipse occurs when the Moon blocks the Sun. The Moon has a 57-degree range of declination.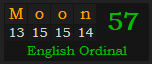 Antetokounmpo's nickname is the Greek Freak, which shares 57 gematria with Milwaukee Bucks, whom he signed an NBA record deal with.



The 57th Prime number is 269

This week, Giannis turns 322 lunar phases old.

---
Yesterday's only total solar eclipse of 2020 began Lunation # 1212.


Antetokounmpo was born in Athens in the year 1994.

Giannis is from Greece. In Greek Isopsephy, Giannis Antetokounmpo shares 778 gematria with the word for eclipse.


His birthday is December 6th, or 12/6, which is written as 6/12 internationally. See how the number 612 refers to eclipses in the book of Revelation. In order to keep Giannis in Milwaukee, the Bucks made a huge trade to acquire Jrue Holiday, whose birthday is 6/12. The Moon's equatorial diameter is 2160 miles.

Wormwood is the name of the star mentioned in Revelation 8:11, which sums to 1377 in the alphabetic order.

---
Bucks

911 is the 156th Prime number


156 is the Ordinal value of Milwaukee Bucks, which also matches eclipse in Reverse.


This will be the Bucks' 53rd season in the NBA.

The ultimate eclipse number is 1331. Today has 13 / 31 numerology:

---
NBA Debut
Giannis played his first ever NBA game on a date with Primary numerology of 73:


In Greek Isopsephy, his full name sums to 2602.


263 is the 56th Prime number

Giannis was born in Athens, Greece.