Elvis Presley's Vaccination on Live Television (1956)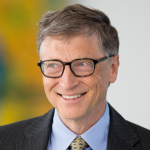 On Bill Gates's first birthday, Elvis Presley, the King of Rock'n'Roll, was vaccinated on live TV during an episode of The Ed Sullivan Show.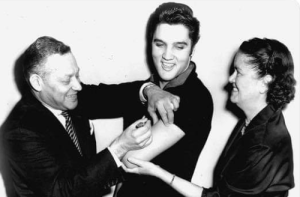 On the date of this episode, Elvis was 7964 days old. When Elvis died, Bill Gates was a span of 7964 days old:

Elvis died on the 228th day of the year, matching Gates's full name in Ordinal:


---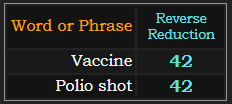 Elvis was 21 was years old and died 21 years later at the age of 42.

---
The date of the episode had a Life Lesson number of 59:


The episode would cause Elvis to become the posterboy for the polio shot.


67 is the 19th Prime number. People are now expected to get vaccinated due to Covid-19. This episode was a span of 100 months, 9 days after The Ed Sullivan Show's debut. "King of Rock" = 109.
In Reduction, Elvis sums to 22. The coronavirus pandemic, caused by orthocoronavirinae, is being treated by a vaccination effort called Operation Warp Speed.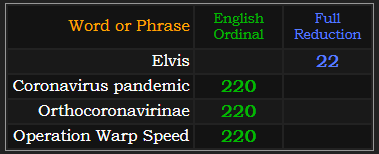 ---
Relation to Coronavirus
The World Health Organization declared a coronavirus pandemic on March 11th, or 11/3.

This television event occurred on a date with numerology of 113 and 94, in the year '56.



Coronavirus was declared a national emergency on a date with Primary numerology of 56, which can be written 13/03:


---
666
As mentioned above, Elvis died on the 228th day of the year. "William Henry Gates" = 228.
The 228th verse of the Book of Revelation states that no man will be able to buy or sell without the mark of the Beast, whose number is 666. Bill Gates is coded up and down with this number.

Bill Gates was born on October 28th, a date that falls 666 days after the first day of a year.
Elvis was 21 years old when he got his shot. Bill Gates helped organize the Event 201 pandemic simulation that conveniently preceded the "real" pandemic.

6×6×6 = 216

---
More
Inoculate has matching 100 / 37 gematria with Presley.

Elvis died on the date leaving 137 days in the year: