United States Pulls Out of Open Skies Treaty
The Open Skies Treaty took effect on 1/1/2002. The United States has now pulled out of the treaty, effective 11/22/2020.

---
Today is the first day of Sagittarius in Western Astrology, which is a Detriment of the planet Mercury. Mercury was the Roman god of transportation. Recall my post explaining how the assassination of JFK, which also occurred on November 22nd, was a massive Mercurial ritual.
The Treaty on Open Skies governs the travel of unmanned aircraft, which is of course a mode of transportation. Kennedy was killed in one (automobile), and his vice president LBJ was sworn in on another (airplane).


It was JFK who said we would be landing on the Moon by the end of the decade. The Moon has a 57° range of declination.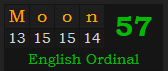 Amazingly, the United States (allegedly) achieved this goal, stepping foot on the Moon in '69. Today is exactly 6900 days after the beginning of the Open Skies Treaty:

The first Moon landing was at the end of Cancer, whose astrological symbol is a 69:


These same numbers are attributed in Fake Moon landing and the date it occurred.

---
JFK sums to 616 like ritual sacrifice.

Today is 616 months after the Moon landing, and 6 months, 16 days after the anniversary of SpaceX, which was founded the same year the Open Skies Treaty took effect:

Today even has 73 and 8 numerology: