Aaron Rodgers Throws for 283 Yards
In my last few posts, I've been explaining how important the number 283 has been. It's the gematria of The Moon and Six hundred and sixty-six.
"Randy Arozarena" = 1283, "Joe Rogan" = 283, "Kanye West" = 2283 (Squares), "Tim Dillon" = 282.

This week, NASA's OSIRIS probe allegedly successfully retrieved a dust sample from asteroid 101955-Bennu.

2083 is the 314th Prime number

In today's game against the Houston Texans, Aaron Rodgers threw for 283 yards:




---

NASA was founded in the year '58.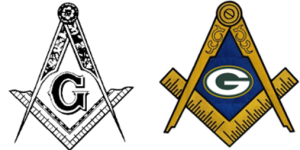 Ancient Accepted Scottish Rite of Freemasonry has matching gematria with OSIRIS-REx's full name:

Today's game was a span of 4 years, 48 days after OSIRIS's launch (or 1508 days):


Today leaves 67 days on the calendar:

---
Moon / 666 Coding
Recall how Arozarena, who wrote Luna on his note, hit his record-breaking home run off of Julio Urias, who was born on a date with numerology of 135. Both games were 7 months, 2 days before the next total lunar eclipse, which falls on a date with numerology of 72:


OSIRIS collected the sample on the date leaving 72 days in the year:

---
October 20th was the 294th day of a leap year:


6×6×6 = 216
OSIRIS was launched in 20162016 is the 63rd Triangular number

666

is the 36th Triangular number


Last season, I made this post explaining how Rodgers' game the day before his 36th birthday was a tribute to The Moon. He's still 36 years old. Rodgers' birthday is 12/2.


The game was against the Houston Texans.

---
Kanye West
When Kanye West was on Joe Rogan, he was 138 days after his birthday. "Donald Trump" = 138. Today, he's 139 days after his birthday.



Worth noting: