Wisconsin Man Allegedly Kills Motorcyclist in Racial Attack

Phillip Thiessen died on 7/03, the date leaving 181 days in the year:



---

The motorcyclist was 55 years old

The marine vet had moved to Wisconsin from Virginia: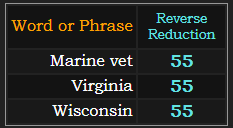 Wisconsin was admitted to the Union on a date with a Life Lesson number of 55:

Although the crash happened a week ago, the story was not published until yesterday, which was Wisconsin governor Tony Evers' 550th day in office. It made headlines 550 days into his term:

5×5×5 = 125. Evers was 125 days before his birthday. "Wisconsin" = 125 (Ordinal).
---
9/11 – Wisconsin Riddle
55 is the 10th Fibonacci number
55 is the 10th Triangular number
5+5 = 10
The incident occurred on July 3rd, which fell 6870 days, or exactly 10 Martian years, after the terrorist attacks of 9/11/2001:


Although it's said the perpetrator was Mexican, his mugshot certainly conjures more memories of the typical Arab terrorist:

The phrase targeting a white person is quoted in the headline. Consider how the 110-story World Trade Center towers collapsed on 11/9, the 254th day of the year:


The first plane struck the World Trade Center at 8:46 am. Recently, "George Floyd" = 119 (Ordinal) was choked out for 8:46 in a city where the sun set at 8:46 pm. FOX News's full headline sums to 846:

909 is 101×9

The worst terror attack in NYC since 9/11 was the 2017 truck attack, whose perpetrator Sayfullo Habibullaevich Saipov also fits a similar profile:

That attack was on the date October 31st, written 10/31, syncing up with the name of this terrorist in Wisconsin:

1031 is the 173rd Prime number
2020 is the 173rd year of Wisconsin's statehood
Motorcyclist sums to 172 in the alphabetic order.


Navarro struck a rider in Fond du Lac county.

Ironically, the vehicle used was called a Dodge.

---
Daniel is 27 years old:




The victim was Phillip. Adding their ages together, 27+55 = 82. "Hate crime" = 82 (Ordinal).
Wisconsin was founded on a date with 82 numerology:



This is also the Reverse value of Daniel Navarro, whose image reminds us of Saipov.


---
The date of Wisconsin's admission to the Union had Primary numerology of 100:

The largest city in Wisconsin, whose governor is Tony Evers, is Milwaukee. These both sum to 100, like the suspect's last name of Navarro, who used a Dodge to commit the racial attack on Phillip Thiessen.






Daniel Navarro in Wisconsin aiming for white people and killing an officer provides a string of 62's: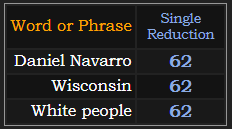 ---
"13" Code
13 multiplied by the 13th Prime number (41) produces 533


The suspect's name is Daniel.

He said Harley-Davidsons were a target:

Harley-Davidson is 117 years old.
---
Brief astrological note – with this story being clearly connected to terror attacks in New York City, I decided to check the age of New York state. Worth mentioning that its age of 84,713 days equates to a virtual exact number of both Mercurial and Venusian years – 963 and 377, respectively. Wisconsin was founded in the time of Gemini, ruled by Mercury. "White people" = 962 (Extended).
963 is a number I've previously equated with the "Eclipse crucifixion code", as it has a 963 value in Jewish gematria. Meanwhile, 377 is a Fibonacci number.