Portuguese Motorcyclist Paulo Gonçalves Dies @ 40

This death occurred the same day Nationals pitcher Fausto Segura died in a motorcycle crash in the Dominican Republic.
---
40-year-old Paulo Gonçalves died at the 2020 Dakar Rally

40 is 20+20
22 is 11×2
He died on 1/12 of 2020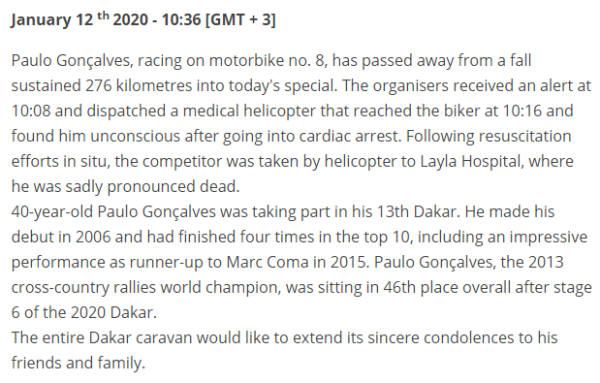 Gonçalves was found dead during Stage Seven

His death fell 11 months, 7 days after his birthday: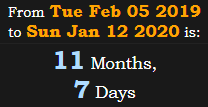 The Portuguse Motorcyclist was the '13 cross-country rallies world champion. Notice this was his 13th Dakar Rally




The death of this Rally biker made the news on January 13th, the date written 1/13

The 113th Prime number is 617

Also interesting that he made is debut in 2006. 26 is 13×2.
---
Paulo Gonçalves rode for Hero MotorSports

He was sitting in 46th place after the first six stages of the race.


---
Kilometer 276
The name Paulo sums to 65

The 65th Prime number is 313
Remarkably, the number 276 sums to 313 both with and without the word "and":


As mentioned up top, he died the same day as Fausto Segura, who also died in a motorcycle crash. Adding their names together gives us 313 Ordinal.

Two seventy-six sums to 220, similar to the year, 2020

---
Miscellaneous
Notice how he was born on February 5th, which can be written either 2/5 or 5/2


He passed away on the date written 12/1 in Portugal. December 1st, or 12/1, is Portugal's Independence Day. 121 is 11 squared.