Malaysia Airlines Flight 17 (2014)
Malaysia Airlines Flight 17 (Wiki)

On the date of the 2014 crash, Malaysia Airlines was 806 months, 2 weeks, 2 days old: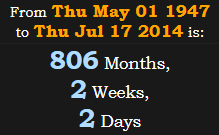 The date had Reduced numerology of 22

The 22nd Prime number is 79
The plane came down over Ukraine


---
The plane had taken off from Schiphol Airport, which had opened 97 years earlier:


It was shot down during the Battle in Shakhtarsk Raion

The battle was a part of the War in Donbass




The crash was 4 months, 9 days after Malaysia Airlines Flight 370 vanished over the South China Sea: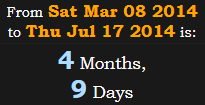 The 49th Prime number is 227
Flight 370 had 227 passengers
---
9/11 Relation
In English Extended, crash sums to 202

The 202nd Prime number is 1231
The crash was 12 years, 310 days after the attacks of September 11th, 2001: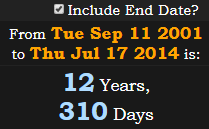 ---
TWA Flight 800
Flight 17 was shot down over Ukraine on July 17th. This was exactly two years after the airplane, serial number 28411, was first flown. In 1996, TWA Flight 800 also blew up in the sky on that very same date – July 17th.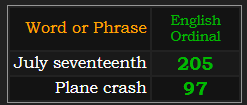 Many people speculate that plane was also shot down. These two airplane crashes were exactly 216 months apart: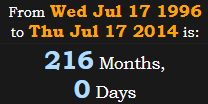 ---
"Death" Code


1444 is 38 squared


The plane came down on a date with Standard numerology of 38


Earlier that year, Malaysia Airlines lost Flight 370 on March 8th, the date written 3/8.