Georgia Tech Recruit Bryce Gowdy Killed by Train



Wide Receiver Bryce Gowdy was hit by a train shortly after signing with a college in Georgia


---
The school he had signed with was Georgia Tech. Notice how both the state and school share 62 gematria with train



Most people are seeing this news today, December 31st, a date with 62 and 17 numerology:

His nickname was Simba, which sums to 17 and 44 like kill. Bryce Gowdy, who would have played for the Yellow Jackets, also sums to 44 like Georgia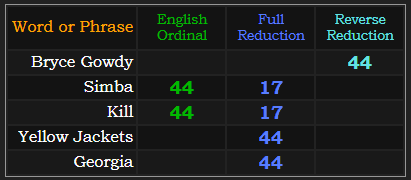 Gowdy was 17 years old



17 is the 7th Prime number
Gowdy wore #7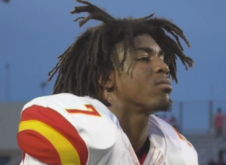 ---
Today also has a Life Lesson number of 55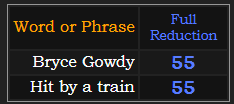 The date he passed away had Primary numerology of 81



---
Eclipse Riddle
Gowdy's death, as well as the date of the news, falls exactly 26 weeks after this year's total solar eclipse:



26 weeks is 182 days. Gowdy would have been a Yellow Jacket at Georgia Tech.