Active Shooter at Pensacola Naval Air Station

Yesterday, we got news about a shooting at a Naval base in Pearl Harbor, and a separate freeway shootout in Florida. Today, we get a shooting at a Naval base in Florida.
The Governor of Florida is Ron DeSantis. Governor Ron DeSantis sums to 1512 in Sumerian gematria:

This is the Jewish gematria of Naval Air Station Pensacola


The reverse of 1512 is 2151. Yesterday, Ron DeSantis turned 2151 weeks old:





---
612 Code
Ron DeSantis has been in office for 10 months, 29 days. The Mayor of Pensacola is Grover C. Robinson IV, who has been in office for 12 months, 9 days:

Today is a span of 12 months, 9 days before the next total solar eclipse: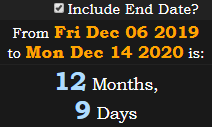 These are the same digits that appear in the year 2019. Turn those numbers upside down and you get 612. Today's date is 12/6, or 6/12 as it's written internationally.



CNN even got in on the action, publishing their initial report at 10:26 am:


612 is a number that has been heavily-coded into shootings for a long time. This was also present in this year's Dayton shooting.

The 99 is also shared by Governor Ron DeSantis

The number 99 sums to 57 in Reduction:

Today's date has primary numerology of 57, matching the Single Reduction value of NAS Pensacola


---
"19" Riddle
The shooter was from Saudi Arabia




The shooting fell 1 year, 9 days into Robinson's term and a span of 1 year, 9 days before the next total solar eclipse


Today has tiny numerology of 19



The 19th Prime number is 67
Robinson is 67 days before his next birthday: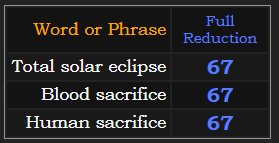 Today is 157 days after the 2019 total solar eclipse:


157 is the 37th Prime number

---
The Ordinal value of the shooter's name sums to the same as total solar eclipse

Notice the 280 value in both Francis Bacon and Hebrew. The naval station's address is 280 Taylor Rd:

---
Miscellaneous

I find it interesting how Mayor Grover C. Robinson was born on February 11th, or 2/11


He was born in 1970, like the 197 gematria of Governor DeSantis's full name.

---
Today is 88 days before the anniversary of Florida's date of admission to the Union:


The 88th Prime number is 457