Pope Francis Given a Signed Ravens Jersey

The Ravens won the Super Bowl about a month before Francis's papacy began. Pope Francis was presented a Lamar Jackson jersey yesterday. Jackson's full name has Ordinal gematria of 229, matching Francis in Latin / Jewish gematria:


The jersey, which reads Francis, is number eight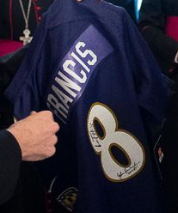 Without the Jr at the end, Jackson has 201 gematria, just like Francis's real name:

---
"33" Riddle
Bergoglio sums to 230


Lamar Jackson turns 33 in the year 2030. On today's date, when most people are seeing this story, he's 33 days before his 23rd birthday:

On this same date, Pope Francis turned 30303 days old:

33 has matching gematria with Baltimore Ravens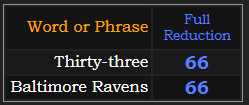 Today is 121 months, 3 days before Jackson turns 33 years old: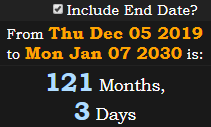 ---
When Francis became the Pope, Lamar Jackson was a span of 16 years, 66 days old: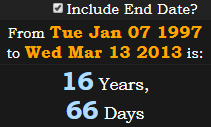 On the date the Pope received his number eight jersey, the Baltimore Ravens were in their 8700th day of operation: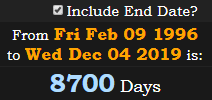 ---
The jersey was given to the Pope a span of 35 days before Jackson's birthday: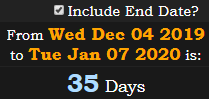 The date had standard numerology of 35

---
The jersey was presented to the Pope during the Ad Limina visit, in which bishops provide reports about their local dioceses.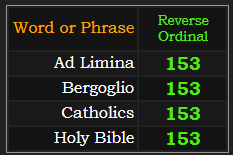 It was Baltimore bishop William E. Lori who handed the Pope the jersey:

153 is the 17th Triangular number. 351 is the 26th.

Bergoglio has been the Pope for exactly 351 weeks: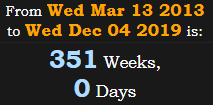 ---
Bonus


The jersey was also signed by coach John Harbaugh, whose date of birth is 9/23, the 266th day of the year:

The 2nd Prime number is 3, and the 6th is 13. Francis became the Pope on 3/13/13.
Francis was in America during his 923rd day as Pope when he visited America in 2015. On the date 9/23 during that same trip, he showed up at the White House lawn at 9:23 am.