LA Police Kill Machete-Wielding Man in Hollywood

The incident involving a man with a machete in Los Angeles occurred on a date with Standard numerology of 55




It began when the suspect stole batteries from an AutoZone, then carjacked a man at a Chick-Fil-A drive-thru.


It was exactly 55 weeks before the next total solar eclipse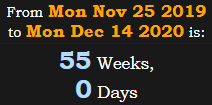 The 55th Prime number is 257


---
Corporate Numerology
In Ordinal, Hollywood, California sums to 217, just like Sunset & Highland, the intersection where this happened.


AutoZone was founded on July 4th, 1979, making it 2107 weeks old:

It was also 4 months, 21 days after its anniversary.

---
AutoZone, Inc was founded on the date 7/4

Chick-Fil-A, which is in its 74th year, was founded on a date with Standard numerology of 74, the 143rd day of the year:



AutoZone and Chick-Fil-A were founded 33 years, 42 days apart: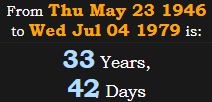 ---
The date also had a Life Lesson number of 48


This story happened in the Hollywood neighborhood of Los Angeles, whose Mayor Eric Garcetti was exactly 48 years, 42 weeks old: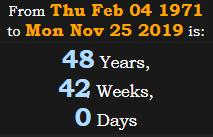 If you're like me, you may be Mandela Effected by the spelling of Chick-Fil-A, which was definitely Chic-Fil-A as I remember it.


It was a span of 147 days after this year's only total solar eclipse.
---
Metonic Cycle
Los Angeles, California is heavily-coded with numerology of the Metonic cycle. (Link 1 – Link 2 – Link 3). The Metonic cycle is a period of 19 years.


This year is '19, and the date had Tiny numerology of 19

This 19-year period syncs up with 235 lunar phases. Los Angeles is both 2035 months old and 235 days after its anniversary:

---
The incident was 4 months, 23 days after the 2019 total eclipse: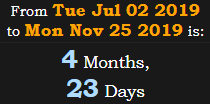 Governor Gavin Newsom had been in office for exactly 322 days:

The date numerology even lines up with both Luna and Moon



---
Chaos Code
The word chaos also sums to 19

The date had primary numerology of 75, ideal for the LAPD shooting a machete-wielding perpetrator: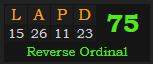 ---
"13" Code
The city LA is associated with the number 13, just like the Moon. The 13th Prime number is 41.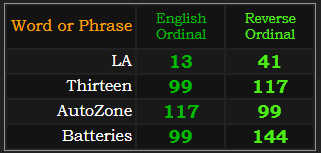 The man allegedly stole batteries from an AutoZone prior to the carjacking. This is funny because AutoZone was 144 days after its anniversary:

AutoZone was founded on a date with 109 and 37 numerology: