Kemba Walker Suffers Concussion vs. Warriors

See the play here
Kemba Walker suffered a scary injury last night during the Celtics' game against the Golden State Warriors. What appeared to be a potential serious neck injury turned out to be only a concussion as he was released from the hospital later that night.

Walker's injury occurred as his head made contact with the midsection of teammate Semi Ojeleye, who was 1302 weeks old: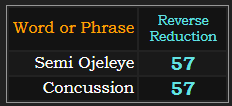 ---
The injury occurred on a date with a Life Lesson number of 45


45 is the sum of all the numbers in the Magic Square of Saturn, which shares 42 gematria with the word concussion


Walker's full name in Reduction matches Saturn in Ordinal. This works even without his middle name:



Kemba ran into Ojeleye and was concussed in Boston 31 / 32 days after his Saturn Return:





---
FOX News' headline was crafted with this understanding that the planets above affect the reality below.


---
The speed of Saturn is 9.69 km/s

Walker ran into Semi Ojeleye

Ojeleye's birthday falls 211 days after Walker's:


---
Stange Synchronicity
Last night on this blog, before ever hearing about Kemba Walker's injury, I shared a story about how my own serious concussion at age 7 occurred by the numbers.