President Trump Attends UFC 244 / The Rock Presents Belt


UFC 244 was held on the 306th day of the year:


It was Trump's 1017th day in office: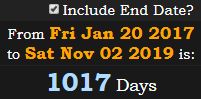 ---
Last night, UFC 244 featured a couple of big celebrity appearances. The first of which was Donald Trump, who was booed raucously by the crowd, as seen in the headline.
But the other big celebrity appearance was from Dwayne "The Rock" Johnson, who yielded the opposite reaction. Johnson is currently the highest-paid actor in Hollywood and showed up so he could present a new title belt to the winner of the main event, Jorge Masvidal, crowning him the Baddest Motherfucker Champion. Yes, it's as dumb as it sounds.
Trump is currently playing the role of the evil president. The Rock has hinted at running for president in the future. Could there be a deeper riddle underlying the night these two men's paths crossed?
---
1984 Riddle
Last night, Dwayne Johnson was 184 days after his birthday:


On August 18th of this year, Johnson, who was born in Hayward, CA, got remarried to Lauren Hashian, who was born in 1984.



Johnson crowned the first Baddest Motherfucker Champion, which sums to 1384 in that same cipher and 984 in Jewish gematria:

Recall how right after Trump got elected, the book 1984 by George Orwell reached #1 again on the New York Times' Bestseller list.

119 is a special number. Consider how the date November 9th even sums to 11/09, just like how it's written.

The name Donald sums to 119


On the date of the event, he had been in office for 1016 days:



---
Numbers of Freemasonry
The number 244 sums to 105 in Reduction:


Masonry's primary numbers of ritual and symbolism are 13 and 33

Trump had been in office for 33 months, 13 days: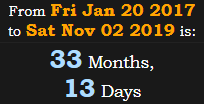 Dwayne Johnson has "The Rock" as a nickname because his professional wrestling name was Rocky Maivia
Masonry's compass is set to 47 degrees: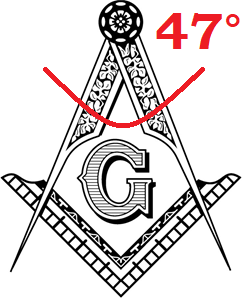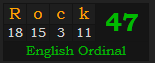 Dwayne is currently 47 years old, meaning he was born in '72


---
Moon Riddle
You probably know Johnson better as The Rock

The new title he presented identifies the "Baddest MF'er" in UFC.

The number 19 is significant to this event, which is of the last ones of the year '19, because in Jewish gematria, nineteen sums to 244

There are 19 years in the Moon's Metonic cycle


The Moon ranges 57 degrees around the equator.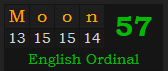 Johnson was exactly 570 months old: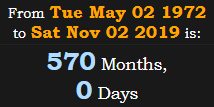 Trump recently attended the World Series, and got booed there too. Read about how the World Series was also a tribute to the Metonic cycle.
Also interesting that Baddest Motherfucker has the same value as UFC 244 in Reverse Reduction: