Nationals' World Series a Metonic Cycle Tribute
Just one year after winning only 82 games, Game 7 was the Nationals' 107th win of the 2019 season.

---
Washington Nationals' 2019 Season (Wiki)
The Metonic cycle (Wiki)
The Metonic cycle is a period of 19 years that syncs up with 235 lunar phases:

In the year '19, the Washington Nationals won the World Series.

Game 7 was the Nationals' 19th postseason victory since their move to Washington in 2005. It came at MinuteMaid Park.

---
"19" Riddle

No Washington baseball team had made the World Series since '33, which was 86 years ago.

86 is 19+67, the 19th Prime number
The winner of Game 7 was Patrick Corbin

They won the World Series on 10/30


---
Washington started the season 19-31
The 31st Prime number is 127

In each 19-year Metonic period, 7 of them contain 13 lunar phases.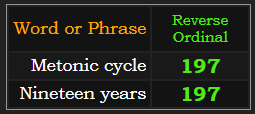 This World Series was Nationals-Astros

Patrick Corbin was born on July 19th, written 19/7




---
August 11th Riddle
There are plenty of Metonic Cycle tributes throughout Washington's season. One example occurred on August 11th, a date that can be written 11/08. After that win, the Nationals reached a record of 62-55

The winning pitcher of that game was Matt Grace, who was 11,197 days old:


The Nationals won that game by a score of 7-4

Grace's birthday is the 14th of December, written 14/12
---
In that game, they defeated the New York Mets


The Washington Nationals franchise used to be the Montreal Expos. 2019 was the Nationals' 51st season in franchise history, but only their 15th in Washington.

This is particularly interesting because this year was the 115th World Series. First pitch of Game 7 was at 7:08, and the game lasted 3:42, meaning it was 11:50 EST when the World Series ended.

Washington, D.C. is of course the homeland to Masonic symbolism and culture. Read about how the recent deaths of MLB umpires Eric Cooper and Chuck Meriwether were a tribute to the number 115.

---
Masonic Numerology

Whenever we're talking about Masonry, we can't ignore the numbers 13 and 33


Prior to the start of the season, Nationals' star Bryce Harper left the team, signing with Philadelphia for 13 years, $330 million.


Game 7 winner Patrick Corbin was exactly 1580 weeks old: