Russian Poker Star Found Dead @ Age 26

The body of Lilya Novikova was found on June eleventh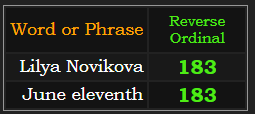 This year's total solar eclipse is on the 183rd day of the year:

That date is July 2nd, written as 2/7 in Russia. Novikova passed away 5 days before her birthday, meaning this article was published on the same day she would have turned 27 years old.

She was born on 6/16 and died at exactly 1408 weeks old: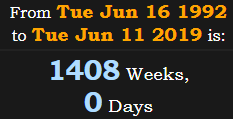 Her June 16th birthday means she was born on the 168th day of a leap year:



---
This poker player was found dead after an apparent hair dryer accident.

The date had full numerology of 56 and a Life Lesson number of 29

Lilya was a famous Russian poker player on Twitch



The date June 11th is written in Russia as 11/6