Mariners Defeat A's in MLB Season Opener
On March 20th, the Mariners defeated the A's in Major League Baseball's 2019 season opener in Tokyo, Japan.
It was Seattle's 293rd all-time win over Oakland:

293 is the 62nd Prime number
The date had Full numerology of 62
This game featured the return of Seattle Mariners' outfielder Ichiro Suzuki to Japan.

The number 62 sums to 155 when spelled out. This matches both Ichiro Suzuki and the team Seattle defeated, the Oakland Athletics

Seattle won by a score of 9-7

Both Mariners and Athletics sum to 97 in the alphabetic order: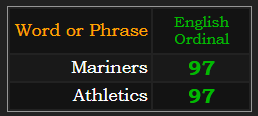 The score can also be read as 7-9
The game was played on the 79th day of the year:

79 is the 22nd Prime number
This was a home game for Oakland played in Tokyo

---
62 is an important number to this game for another reason. Consider how 62 is the Reverse value of Metonic cycle

The Metonic cycle is a period of 19 years. This game fell a span of exactly 19 months after the last total solar eclipse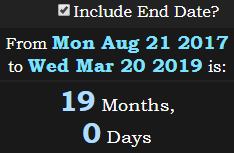 This same measurement is 1 year, 212 days:

Measuring to the next total solar eclipse gives us 14 weeks, 6 days, matching the name of their opponent: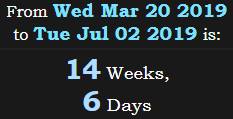 It was Jesus Christ who was crucified under a solar eclipse.

---
The star of the game was Domingo Santana, who hit a grand slam

He was 32 weeks, 3 days (or 227 days) after his birthday:


His name matches total eclipse in Jewish:

He hit his grand slam off of pitcher Mike Fiers. Their birthdays are separated by 7 years, 1 month, 3 weeks: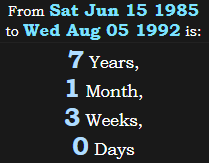 Mike Fiers was born on June 15th, written 15/6

Domingo Santana was born on the 218th day of a leap year:


He was born a span of 2609 days after Mike Fiers: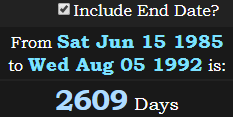 269 is the 57th Prime number