King Kong Bundy Dead @ 61

WWE legend King Kong Bundy, whose real name was Chris Pallies, has passed away on March 4th

March 4th is written 3/4. It was exactly 34 days before WrestleMania, which will be held at MetLife Stadium in New Jersey, the state Bundy was born in:


Converting to weeks, we find it's 4 weeks, 6 days before WrestleMania: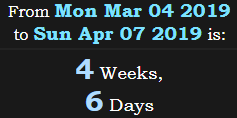 Bundy's death fell on a date with Full numerology of 46



---
The WrestleMania Riddle
Undoubtedly, Bundy's biggest moment as a professional wrestler was at WrestleMania 2, where he battled Hulk Hogan in a Steel Cage match in the main event.
That event fell on April 7th, 1986 – the only WrestleMania to ever occur on a Monday. That means it was exactly 33 years to the day before this year's WrestleMania event, also on April 7th: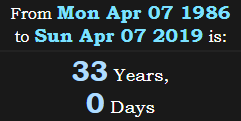 33 is a number of Ritual human sacrifice

Curiously, Bundy's real name Chris Pallies sums to 395, which looks a lot like 895…

The film King Kong came out in the year '33
The film's New York release date can be written 3/2/33



News of King Kong Bundy's death did not break until March 5th, which falls a span of 31415 days after the film King Kong's initial release: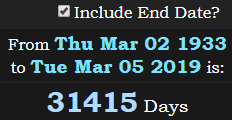 It was 120 days before the next total solar eclipse

Measuring instead to the most recent total solar eclipse, we find it's been a span of 197 days since its anniversary: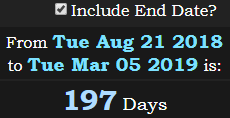 Christopher Alan Pallies died a span of exactly 1 year, 28 weeks after that eclipse: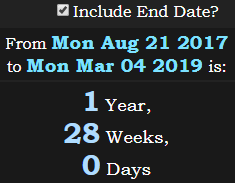 He died exactly 1717 weeks after he Main-Evented WrestleMania 2: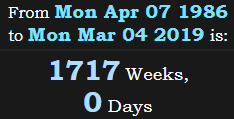 The date he died had 17 numerology:


---
Cathy Lee Crosby
The guest ring announcer for WrestleMania 2 was Cathy Lee Crosby

139 is the 34th Prime number
Her initials are C.C. = 3-3
Think about 34 and 33 in light of how he died on 3/4, 34 days before a WrestleMania that will be exactly 33 years after the one he headlined.
Crosby was born on 12/2 and as of the date of this news, is 27,122 days old: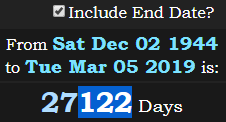 She was the ring announcer for Bundy's Steel Cage Match

Bundy was 221 weeks younger than his opponent, Hulk Hogan:

---
Consider how the number 353 is 35 both forwards and backwards (Super Bowl 53 was played just two months before WrestleMania 35)
The inverse of 35 is 53
Bundy's death made news on 5/3
Hulk Hogan was born in the year '53

The 53rd Prime number is 241

53 is the 16th Prime number

---
Crucifixion Code
It's WrestleMania 35 coming up next month. Thirty-five has gematria of 1331, the ultimate solar eclipse number.


Thirty-five sums to 61 in Reduction
Bundy died at age 61
His real name was Christopher
On the date of WrestleMania 35, Bundy would be 61 years, 151 days old: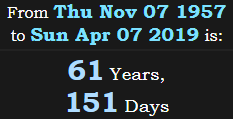 His last name, Pallies, matches Jesus in Ordinal: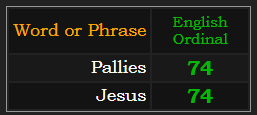 The date he died is written internationally as 4/3




---
Sacrifice / Kill Code
His WrestleMania 2 opponent Hulk Hogan also has 43 gematria:

Check out how long it's been since his birthday:



---
WrestleMania falls on the 97th day of the year, syncing up with his real full name:


He fought Hulk Hogan in the Main Event of WrestleMania 2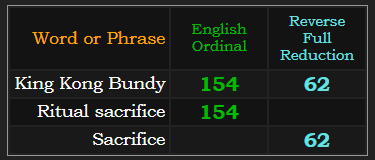 Bundy was billed at 6'4″

News of his death broke on the 64th day of the year:
The 64th Prime number is 311
Bundy was born on the 311th day of the year:


The 17th Prime number is 59
The 44th Prime number is 193