Belarusian Footballer Andrey Shcharbakow Dead @ 27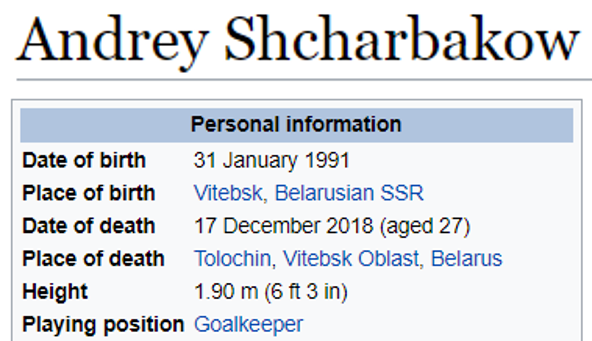 It's said this man died in a traffic collision yesterday, December 17th, at the young age of 27. Notice how his name was often spelled Scherbakov


---
"Eclipse Sacrifice" Code
He was a Belarusian footballer. Football (including American football) is a game of 11-on-11, meaning there are 22 players on the field. Shcharbakow died on a date with standard numerology of 22

Ritual human sacrifice is usually carried out in alignment with a total solar eclipse

The most recent total solar eclipse was exactly 69 weeks before his death: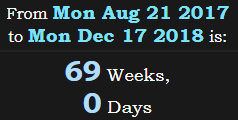 This is also a span of 484 days, ideal for a footballer to die: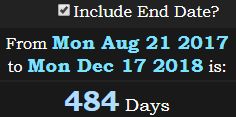 It's appropriate that a Belarusian would be chosen for this ritual:



---
Total solar eclipse shares 67 gematria with the phrases blood and human sacrifice



Andrey died on a date with Full numerology of 67


The 67th Prime number is 331
The accident occurred in Tolochin, Vitebsk Oblast, Belarus

The date also had Standard numerology of 47
The 47th Prime number is 211

Shcharbakow won a Belarusian Premier League championship in the year 2011.
---
Name / Calendar Alignments
Ritual human sacrifice also has gematria of 131

Check out the gematria of his real, full name:

Notice his Reduction gematria of 131. His birthday happens to be January 31st, written in the United States as 1/31
Internationally, January 31st is written 31/1 – in Ordinal and Extended, Shcharbakow has 311 gematria.
---

The 46th Prime number is 199
Belarus celebrates its Independence Day on July 3rd, written 7/3


He died a span of 199 days before 7/3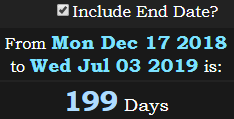 He died a span of exactly 46 days before his birthday: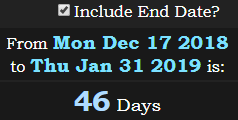 And he died a span of exactly 46 weeks before November 3rd, written 3/11 internationally: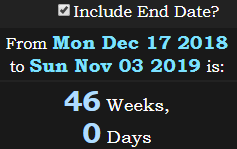 ---
In the United States, November 3rd is written 11/3

The 113th Prime number is 617
Shcharbakow died a span of 6 months, 17 days before Belarus's Independence Day: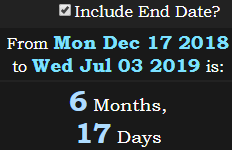 Shcharbakow died exactly 6 months before (and consequently, 6 months after) the only date written as 6/17
Internationally, June 17th is written as 17/6, tying back to Shcharbakow's common name gematria:
In Reverse, his common name sums to 283


He died a span of exactly 28 weeks, 3 days before Belarus's Independence Day: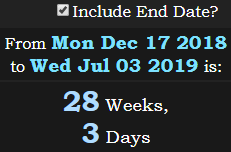 ---
Bonus
Shcharbakow, a footballer from Belarus, died in a traffic collision