Man Killed in Alabama Mall Shooting NOT the Gunman


Can you believe this guy's middle name is Fitzgerald? This shooting occurred on the 55-year anniversary of the date John Fitzgerald Kennedy was assassinated.
Kennedy's death was on a date with Full numerology of 115

This shooting was at Riverchase Galleria



The shooting was 115 days before 17/3


Kennedy's assassination also had Standard numerology of 96 and alternate numerology of 42

The mall is located in Hoover, AL

---
JFK, the 35th U.S. President, was the first Catholic President


The mall shooting occurred on a date with 71 numerology:


Catholic sums to 46 in Reverse Reduction, matching up with the name of the man killed.

This man has appropriate gematria for a man sacrificed instead of the real shooter.


163 is the 38th Prime number

Alabama Governor Kay Ivey was 38 days after her birthday:

The shooting was at a mall in Hoover, Alabama



The shooting was exactly 38 weeks after 3/1 and a span of 3 months, 8 weeks before the next 3/1


The shooting occurred on a date with Standard numerology of 51


---
More Calendar Craftiness
It took me a while, but I already think I'm catching on to something extremely significant with these rituals. The Ordinal and Reverse Ordinal ciphers are used in direct accordance with dates on the calendar more than I realized.

The incident at Riverchase Galleria occurred a span of 313 days after 1/14 and 17 weeks, 3 days after 23/7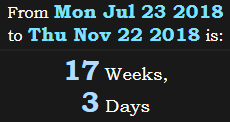 ---
In Ordinal, the victim's name sums to 269, matching the location of the shooting.


269 is the 57th Prime number
The Police spokesman is Gregg Rector

---
State of Alabama / Governor
The State of Alabama was 343 days after the anniversary of its date of statehood when the shooting occurred:

343 = 7 × 7 × 7


Order out of chaos is the motto of the Ancient Accepted Scottish Rite of Freemasonry, a subsidiary of The Society of Jesus, who operate through ritual and symbolism

The shooting was also a span of 227 days after the first anniversary of Governor Kay Ivey taking office: