Venus Williams Reaches Settlement in Fatal Crash

This story was published today, November 21st, despite the court documents having been filed last week. Today is exactly 530 days after the car crash this story is about:


53 is the 16th Prime number
Today has Reduced numerology of 16

The date also has a Life Lesson number of 43


---
I'm pretty sure they're trying to tell us this story is fake. Venus's name has gematric connections to Scottish Rite of Freemasonry

The 325 does not match, but today is the 325th day of the year:

Headline Gematria

293 is the 62nd Prime number



The crash involved a Hyundai Accent & Toyota Sequoia

---

The accident occurred in Palm Beach Gardens, Florida

Venus's birthday is 6/17
617 is the 113th Prime number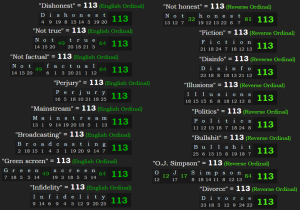 Venus Williams' accident was on the date 6/9
The headline is 69 letters long
The 69th Prime number is 347



Palm Beach Gardens, Florida also has a 13-33 connection, our two primary ritual / hoax codes.
---
Bonus
Is it worth noting that yesterday had date numerology of 69?

I only bring this up because November 20th is the date leaving 41 days in the year:

The 41st Prime number is 179