Missing Argentine Submarine Found

It's said that 44 people were on board this submarine from Argentina

Today is the date leaving 44 days in the year:


---
The date has a life lesson number of 39


The President of Argentina is Mauricio Macri. He was born on the 39th day of the year:

He has Full birth numerology of 88

The 88th Prime number is 457

Today, President Macri is in the 283rd day of his age: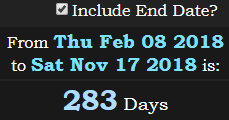 ---
Numbers of Sacrifice
Argentina has matching gematria with Ritual sacrifice


The name of the submarine that went missing was the ARA San Juan

In Reverse, this sums to 170


Today has Standard numerology of 46


Both sacrifice and ritual sacrifice sum to 73


The 73rd Prime number is 367
This article about the sub being found comes exactly 367 days after it originally went missing:
---
Homicide Code
Today's date is November 17th, written 11/17
11×17 = 187 | The 187th Prime number is 1117
Argentina's President does have 187 gematria in the Kabbalah:

187 is the homicide code:


Today's date has Full numerology of 66

Argentina celebrates its Independence Day on July 9th, which was 4 months, 8 days ago: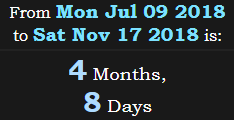 The 48th Prime number is 223
This story features a mention of Eliana Maria Krawczyk, who was Argentina's first female submarine officer.


---
Her name has more numbers of death




I don't really know why, but The Beast is coded into her name too.