Four Killed in Girl Scout Trash Clean-Up

In light of several stories this week about cars killing children, including this one I made a post about yesterday, now we get another story about four people, three of them children, being run over by a truck while picking up trash in Wisconsin.
The date was November 3rd, written 11/3
113 is the 30th Prime number
Wisconsin is the 30th state
4 people from the Girl Scouts were killed?



It's said the perpetrator's name is Colton Treu



Appropriately, he has matching gematria with Girl Scouts across 3 of 4 base ciphers:



11/3 is a good date for the Scottish Rite

It's the 307th day of the year:


This story takes place in Chippewa County, Wisconsin



It's also the date that leaves 58 in the year:


---
With the S Exception, Freemasonry sums to 67

Lake Hallie, the village closest to the accident, has 6700 residents:

The driver is from Chippewa Falls




Governor Scott Walker was born in '67 and turned 51 the day before this news story.

It was 158 days after Wisconsin's anniversary of the date it was admitted to the Union:


---
158 days is also 5 months, 5 days: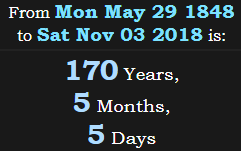 Wisconsin was established on a date with a life lesson number of 55

Both Wisconsin and Colton Treu sum to 55

Colton was driving a Ford F-150

---
More on the gematria of Chippewa County, Wisconsin


---
Again, the driver was from Chippewa Falls, WI

163 is the 38th Prime number




Governor Scott Walker was 51 years, 1 day old: