Brewers Lose NLCS Game 7 to Dodgers
This will be a summary of how the numbers of the Moon guided us through the 2018 MLB postseason.

Los Angeles Dodgers
Los Angeles, California might be the premier "Moon" city in America. The Moon has a 19-year cycle that syncs up with 235 lunar phases.

The Dodgers hit a franchise-record 235 home runs during the regular season.
This cycle is called the Metonic cycle
In Satanic Gematria, Metonic cycle sums to 547


---
Every 19 years, 7 of them have 13 lunar phases




197 is the 45th Prime number
The date Los Angeles was incorporated as a city on May 23rd, 1835, had double numerology of 45


The date also had Reduced numerology of 27 and alternate numerology of 36






---
Moon begins with the letter M, the 13th letter of the alphabet. The Moon has 13 lunar phases every couple of years.


The 99th Prime number is 523
Los Angeles was incorporated as a city on May 23rd, the date written 5/23
---
Milwaukee Brewers

In Hebrew, The Moon sums to 223
There are 223 lunar phases in the Saros cycle

In 2005, Mark L. Attanasio purchased The Milwaukee Brewers for $223 million


---
The Milwaukee Brewers are also closely-connected to the Moon and its 19-year Metonic cycle.


190 is the 19th Triangular number
The best player in Brewer history is #19 Robin Yount
19 is the 8th Prime number
The man who holds most Brewer franchise records is #8 Ryan Braun
Their logo is the letter M, the 13th letter, which is of course the same as Moon




Their famous radio announcer is Bob Uecker



The Brewers' first season in Milwaukee was 1970
Their manager, Craig Counsell, was born in 1970


Again, 197 is the 45th Prime number

The Metonic cycle is credited to an astronomer named Meton


---
Game 7
The Dodgers won the deciding game by a score of 5-1



The Dodgers' starting pitcher was Walker Buehler
He was a span of 2 months, 23 days after his birthday: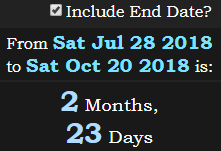 This means he was a span of 9 months, 9 days before his next birthday: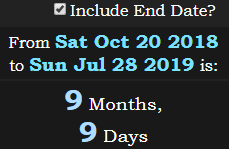 ---

Buehler wears #21
The 21st Prime number is 73
Buehler threw a total of 73 pitches


---
The starter for the Brewers was Jhoulys Chacin, who threw 36 pitches


He was 2 months, 18 days before his birthday: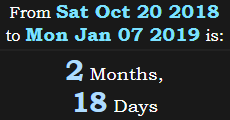 In Hebrew Ordinal, Moon sums to 38



The 38th Prime number is 163
Chacin's birthday falls exactly 163 days after Walker Buehler's:
The only run the Brewers scored was off a home run by Christian Yelich

Jhoulys Chacin wears #45



In the Ordinal methods, thirteen sums to 99 and 117







---
The Dodgers beat Atlanta and Milwaukee to get to the World Series, where they will have to beat Boston in order to win it all. What's unique about these cities?
The Braves have called all three of them their home.

67 is the 19th Prime number