50 Cent Offers Khabib Nurmagomedov Bellator Contract

Khabib Nurmagomedov just defeated Conor McGregor at UFC 229



Now, he's being offered an MMA contract from rapper and Bellator investor 50 Cent, whose real name is Curtis James Jackson III


229 is the 50th Prime number
50 Cent…


---
UFC 229 was a massive pi ritual, as explained in my post from last week.
229 is a very significant number in numerology. Revelation 13:18, which reveals the number of the Beast, is the 229th verse of the book.



50 Cent's offer for a spot on the Bellator roster happened when Khabib was exactly 10980 days old:



---
The Beast is Time


The 47th Prime number is 211




313 is the 65th Prime number

The mark of the Beast is the circle
6+6+6 = 18 = 9+9
Today is 99 days after 50 Cent's birthday:

50 Cent is well-known for being shot. That happened when he was 9090 days old: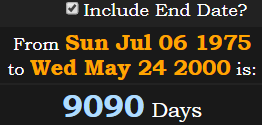 ---
Revelation 2:9, which is the 29th verse of the book, is the first to mention The Synagogue of Satan, said to be the rulers in end times.

In Ordinal, this sums to 223

50 Cent's offer was for two million dollars


Khabib Nurmagomedov was born in '88
50 Cent was born on (7) + (6) + (75) = 88


---
Bonus: