Ravens vs. Bengals – Tribute to the Battle of Baltimore
The War of 1812 theme in the NFL continued this week. Before reading this post, please see my work on both last week's Packers/Bears game, as well as my recent post on the elementary numerology that connects Francis Scott Key, who wrote the lyrics to the National Anthem, to Donald Trump and Colin Kaepernick, who are feuding over the same flag he drew his inspiration from.
Last night, the team from Baltimore, the Ravens, lost to the Cincinnati Bengals. It was the Battle of Baltimore during which the lyrics to the National Anthem were written by Francis Key


The game finished with a total of 57 points:

The Bengals won with 34 points. The word Flag sums to 34 in Jewish gematria.


The 34th Prime number is 139. The date of last night's game was September 13th, written internationally as 13/9
---


Both John Harbaugh, head coach of the Ravens, and Marvin Smith, head coach of the Bengals, were born on September 23rd, written 9/23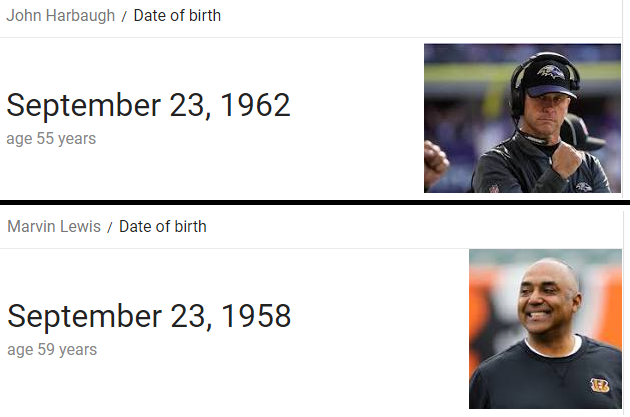 The Ravens lost their 23rd game against the Bengals in this contest in 45 total games. 45 is the 9th triangular number.
They were going for their 9th win against the Bengals on the road in 23 tries
---
But what's especially interesting is that the Bengals won by this same exact score last week, against the other team that used to play in Baltimore, the Colts:

Check out the gematric connection between Baltimore and these teams:

Out of over 16,000 games in Pro Football Reference's database, only 13 prior to this year finished with the score 34-23, yet the Bengals, who haven't scored that many points in 37 games dating back to December of 2015, managed to finish with this same score two weeks in a row. Against both Baltimore teams, nonetheless…unreal.
Key wrote the poem on September 14th, the date written internationally as 14/9