Golfer Tadd Fujikawa Comes Out as Gay

This news about Tadd Fujikawa falls on a date with 39 numerology



Homosexuality has everything to do with the number 33



The 33rd Prime number is 137

Even the pejorative term for gay people, fag, has all sorts of connections to 33



When written out, thirty-three sums to 156


He's from Hawaii, one of just 3 states with 33 gematria in Reduction

In Trigonal gematria, the word thirty-three sums to 1444

On the date of this announcement, Tadd Fujikawa is 1444 weeks old

213 days is 30 weeks, 3 days
---
Check out Fujikawa's birthday. It's January 8, the date that leaves 357 days in the year

357 ÷ 3 = 119
119 is a highly-significant number to the Judeo-Masonic order running the Catholic Church, our mainstream media, pro sports, and pushing the LGBTQ agenda.




Fujikawa's birthday also had 119 numerology

And on the date of the news, he's exactly 10109 days old:

And he's a span of 119 days before his birthday: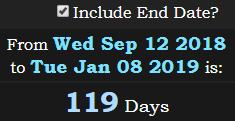 Remember earlier this year when Patrick Reed won the Masters? He was 10109 days old on that date.
---
Bonus:
Tadd was also born on a date with 29 numerology

29 squared is 841, syncing up with the gematria of the headline




---
Fujikawa announced he would turn pro on July 12th, 2007, exactly 134 months prior to this news: