CBS Executive Les Moonves Out Amidst Sexual Abuse Accusations

Today is a date with a life lesson number of 29

Moonves's full name is Leslie Roy Moonves, who has birth numerology of 29


He was the CEO of CBS

Both dates also have 56 numerology




---
As I detailed at great length in my post on Mac Miller, 13 is a number of the divine feminine.


Les Moonves's initials are L.R.M.



The date of this story, September 9th, is written globally as 9/9

He was born on the 279th day of the year:


---








67 is another number related to the feminine




67 is the 19th prime number.



Moonves was born on the date that leaves 86 days in the year


---
113 is a number of deception. Today is the date leaving 113 days in the year:

Today is 11 months, 3 days after Moonves's birthday: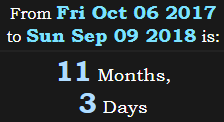 113 is the 30th Prime number. Les Moonves has Reduced birth numerology of 30

He also has a life lesson number of 39

The 39th prime number is 167

---
Headline Gematria


Alt+227 = π (Pi)
Pi is 3.14
22 ÷ 7 = 3.14