2K League Member Larry Legend of Bucks Gaming Shot

The man who is being reported shot in the linked article above happens to be a professional gamer who gets a decent salary, so for anyone wondering if he could possibly fake it…the guy is getting paid to play video games. Would you rather participate, or find a real job?
Timothy Anselimo was shot in Jacksonville, Florida on a date with full numerology of 72?




Look at the score the linked article has on the page with his picture: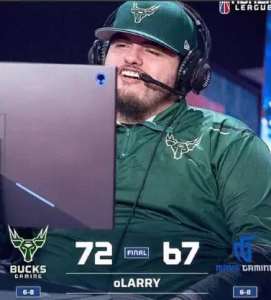 In Ordinal, this phrase sums to 121

One of his gamer tags was Larry Legend, which matches his mom's Twitter handle (see below):

I wonder how many mothers of professional video gamers have Twitter handles with their son's gamer tag? Seems odd.
---
The killing in Jacksonville, Florida was on a date with 43 numerology:






His other gamer tag was oLARRY




---
Timothy Anselimo played for Bucks Gaming









It's being reported that he was shot three times in today's shooting in Jacksonville. Three is a soft hoax code…but nevermind that. Look where they say he was shot: