Hurricane Lane Set to Hit Hawaii This Weekend


Hurricane Lane is due to make landfall on August 24th, the date that leaves 129 days in the year:

There's another famous Lane with 129 gematria – Lois Lane, from the Superman comics: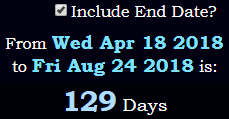 Superman and Lois Lane first appeared in Action Comics #1. The date Hurricane Lane makes landfall will be the 129th day since the 80th anniversary of that issue's release in 1938:
---
In the Reverse order, Hurricane Lane sums to 222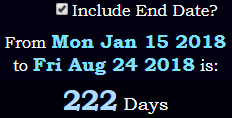 Friday the 24th will be a span of exactly 222 days after the birthday of David Ige, who is the current Governor of Hawaii:
The date has a life lesson number of 43


All of this calamity is occurring while Ige is 61 years old

---
August 24th has reduced numerology of 25

The 25th prime number is 97

It also has alternate numerology of 52


---



257 is the 55th prime number. Recall how the Hawaii volcano eruption took over the news on May 5th, the date written 5/5, which was 257 days after the Great American total solar eclipse


The date of landfall will also be exactly 223 days after the Hawaii missile scare to have occurred on January 13th:


Recall how the earthquake and subsequent volcano to occur on Hawaii's big island was 113 days after that 1/13 date.