Missing Woman Mollie Tibbetts Found Dead

The headline has Reverse Reduction gematria of 304


Tibbetts was last seen alive while jogging on July 18th, which was 34 days before she was found:

The mascot of her school, the University of Iowa, is the Hawkeyes

She was first reported missing on the 19th, which is a span of 34 days before she was found. Without the end date, that measurement is 33 days:


Her father has a 33 name as well:

Her initials M.T. = 13+20 = 33
Notice how Mollie is spelled – it ends with the word lie instead of having the typical M-o-l-l-y spelling.
The 33rd prime number is 137
The date she was found is also 137 days after her birthday:
Update: Her full name is Mollie Cecilia Tibbetts

The man charged with her murder has this gematria also:




NOTE: This page says Mollie was born on April 6th, 1998. This flyer, however, which I just found, says May 8th. These two days are a span of 33 days apart.
---
13 is the primary ritual code and a number representing the divine feminine
1313 is often attributed in stories involving women, as I just recently covered last week

She was found dead 1 month, 3 days after she was last seen alive: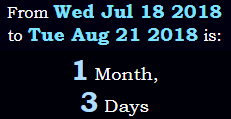 She went missing 103 days after her birthday:

The 13th Fibonacci number is 233
She was found dead on the August 21st, the 233rd day of the year:

The 13th prime number is 41, matching the name of her hometown:

The 41st prime number is 179, matching the name of her boyfriend:


91 is the 13th triangular number.
---
The date of this unfortunate news aligns nicely with the Governor of Iowa, Kim Reynolds, who is currently 59 years, 17 days old: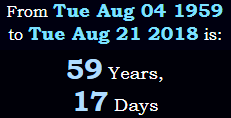 59 is the 17th prime number



Mollie Tibbetts went to the University of Iowa, whose mascot is the Iowa Hawkeyes
The date she was reported missing had 55 / 64 numerology:



Today is 89 days after the first anniversary of Kim Reynolds taking office as Governor



7:30 pm?

July 18th, or 18/7? 187 is slang for the homicide code

---
Mollie originally went missing 163 days before Iowa's date of admission to the Union. In Ordinal, her name sums to 163, the 38th prime number:


The date she was found had numerology of 38

---
This date also had 67 numerology:




It's the one-year anniversary of the 2017 Great American total solar eclipse

67 is the 19th prime number

In regards to her April 6th birthday…it's written 4/6