Tiesto to Play Under Lunar Eclipse @ Tomorrowland
For the first time in its 14-year existence, there will be a lunar eclipse during Tomorrowland, the world's largest EDM festival.
The eclipse will begin while W&W are on the main stage. Tiesto will then take over, and his entire set will be under the eclipse.

They're all from Breda, Netherlands


Tiesto was born in the year '69

---


In Reduction, lunar and eclipse both have gematria of 33, matching the town of Breda

Turn each number in 33 ninety degrees clockwise and you get the letters WW. The act on stage before Tiesto is literally named W&W.
W&W is specifically from Breda, North Brabant, Netherlands



In the Kabbalah, Tiesto's full name also sums to 283

---
On the date of the eclipse, Tiesto will be exactly 18088 days old: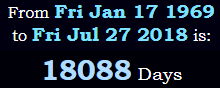 3.14 is the first three digits of pi. 314 is also the gematria of eclipse in Satanic gematria

---
Tiesto will be the only DJ whose full set is under the eclipse. As the eclipse ends, Axwell & Ingrosso will be on stage. I just did a post on them the other day – they used to be members of a DJ group called the Swedish House Mafia




Axwell & Ingrosso is stylized as Axwell Λ Ingrosso. The character in the middle is the Greek letter lambda, which has a value of 30 in Isopsephy.


223 months in the Saros cycle, which allows us to predict the next solar and lunar eclipses.
Axwell will be a span of 222 days after his birthday
Ingrosso will be 269 days before his


Axwell Λ Ingrosso are two-thirds of the group Swedish House Mafia. The other third is Steve Angello. Why won't he be there? It turns out, he's the perfect age:

As I have documented at length on this blog, 1331 is the number that represents a total solar eclipse. No wonder Steve Angello got removed from the group! They'll be playing under a lunar eclipse, not a solar one…
---
"Eclipse" = 33 (R) | "Thirty-three" = 156 (O)
In Hebrew, eclipse sums to 156


Tomorrowland takes place every year in Boom, Belgium