Brewers Get Another "Moon" Tribute
Last month, I made a post about the Milwaukee Brewers game on May 14th. The Brewers are the "Moon" team of the Major Leagues, it seems, and in that post, I gave more evidence they are coded in such a fashion.
That was a date with very "Moon"-y numerology of 21, 48, and 57






The 13th of this month shares the same numerology:

Not only that, but it's the 13th day of the month, and 13 is a significant Moon number. Moon starts with the 13th letter, and the Moon completes 13 lunar phases every few years.
"The Moon" = 99 (RO), "Thirteen" = 99 (O), "Reality" = 99 (RO)
So it's fitting that today's Brewer game finished 1-0, with the hero being the man stamped with the biggest Moon numbers. His name is Lorenzo Cain

His name sums to 57, and to boot, he was born on the 103rd day of the year on a date with 103 numerology:



His home run came off Mike Montgomery, who is 347 days after his July 1st birthday:

In Hebrew gematria, "The Moon" sums to 223

Cain's initials in Jewish Reduction are 2-2-3

And on the date of this game, he was exactly 32 years, 2 months of age:
---
The Moon completes 235 lunar phases each Metonic cycle. This is a period of time that syncs up with 19 solar years. Today's date, 6+13 = 19
Thus, the Moon is in a synchronous orbit with the Sun, just as it is with the planet Saturn

Lorenzo Cain accounted for the only run of the game. It was a Lead-off home run to start the Brewers' half of the 1st inning off of Mike Montgomery


---
There's another important cycle that syncs up the 12-month lunar calendar with the solar calendar. Every 33 years, you must add 1 12-month lunar year to keep up with the solar calendar.
The man Cain hit his home run off of was Mike Montgomery, who has the M.M. initials, which are a sideways 33
He wears #38, which is the Ordinal value of Moon in Hebrew, when not referring specifically to our Moon. In full Hebrew gematria, it sums to 218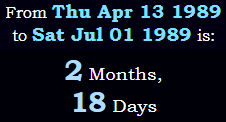 The birthdays of Lorenzo Cain and Mike Montgomery are separated by 2 months, 18 days:

In fact, the starting pitcher for the Brewers on this day was exactly 218 days before his birthday:
The "i" in Chacin is a Hispanic character. Whether you count it in the equation for his full name or not, you still get numbers of The Moon




Today is the 13th of the month…


Chacin was born on January 17th, written 1/17

The Moon is the largest observable circle in the sky, A circle is made up of 360 degrees

Jhoulys wears #45