Minnesota Woman Gets Nasty Obituary
Is this a real woman? Both the name of the woman and the name of the town have connections to 33, a primary hoax / ritual code.






Jesus was ritually sacrified at age 33

The story was published in the Redwood Falls Gazette

She died on the 151st day of the year


The 151st prime number is 877
"Minnesota Woman's Children Announce Her Death With Truly Nasty Obituary" = 770 (O) | 877 (RO)

---

13 is the key ritual code, and 113 is the mainstream's number of deception






They got married in Wabasso, which has the ass in it for the sexual innuendo. Their kids were named Gina and Jay

---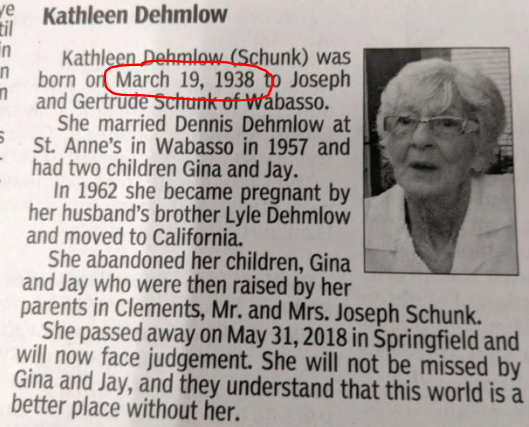 Notice her 3/19 birthday

Her birth name was Kathleen Schunk



The date they give as her death would have been 73 days after her birthday.


226 is a number connected to 33

---
"Redwood Falls Gazette" = 212 (ALW)
"Ritual sacrifice" = 212 (ALW) | 212 (KFW)



"Redwood Falls Gazette" = 83 (R) | 97 (RR)
"Murder" = 83 | "Death" = 97 (RO)