Kardashian Meeting with Kushner at White House
It's odd that I'm linking to Vanity Fair in regards to a meeting at the White House. But this is where we're at here in 2018 – there is literally no line any longer between Reality Television and Politics.
Today, Kim Kardashian will be meeting with Jared Kushner in hopes of getting a pardon for Alice Johnson (whose last name has the son hoax code), who is serving life in prison without the possibility of parole for a first-time drug offense.
Alice Johnson is said to be 62 years old – but it's just news by the numbers.



The 62nd prime number is 293

---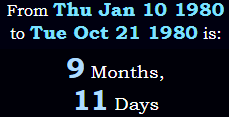 Why else might Kardashian and Kushner be involved in the same news story? First, check out the length of time between their birthdays – 9 months, 11 days:


The headline written by Vanity Fair re-affirms this 911 connection:

Simply turn these numbers upside-down…


---
911 is not just connected to the date September 11th, although that's an important part of it. September 11th is the 254th day of the year. "Time" and "Light" both = 254 (EE)
Additionally, the word for "Time" = 119 in Yiddish. In Hebrew, the keeper of time, "Saturn" = 713, which is the 9th prime number multiplied by the 11th prime number.


The meeting falls exactly 144 days before Kim Kardashian's upcoming birthday this October:
144's Sum of Divisors is 403
The only other number whose Sum of Divisors equals 403 is 225
This is another significant number – see link for more

Measuring to Jared Kushner's upcoming birthday, we find it's exactly 225 days:
Perhaps the most significant cycle of time is the Metonic cycle, a period of 235 synodic months that syncs up with 19 solar years.

He's meeting up with Kardashian on a date with 19 numerology
The 19th prime number is 67


---
Today's date is May 30th, written 5/30. Kushner's Reduction gematria syncs with this number and today's date numerology.




He's meeting with Kim on the 150th day of the year