Real Life Injuries by the Numbers
New Year's Revolution (2005) – Wikipedia
The first match to take place on the main card was a tag team match, where Christian and Tomko challenged William Regal and Eugene for the World Tag Team Titles.
The match had a notable botch early on when Tomko legitimately clotheslined William Regal in the face, busting his nose open, causing him to lose a lot of blood. As the ending neared, Eugene got the hot tag, but hurt himself performing a dropkick.

Although you couldn't really tell exactly what happened, it seemed quite apparent the injury wasn't being faked. The ending looked very sloppy, improvised, and Eugene legitimately looked to be in a tremendous amount of pain.
In the very next match was for the Women's Championship, where the champion Lita squared off against Trish Stratus.

What do you know? Back-to-back knee injuries to start the pay-per-view. This time, you could tell for certain the injury was real just by seeing it. Something must have been in the air.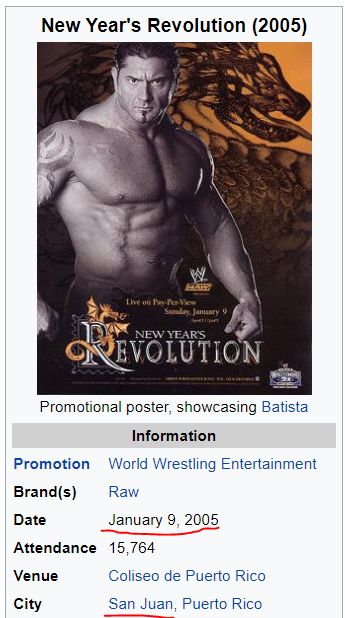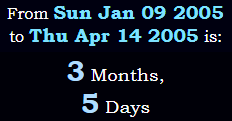 Lita was 3 months, 5 days before her birthday when she tore her knee:
She's almost exactly 35 weeks older than Eugene

---
Lita tore her ACL, and Eugene ruptured a patellar ligament.
The date was January 9th, written 1/09
"Ruptured patellar ligament" = 109 (R)


Both were 29 years old on the date of the event
"Torn ACL" = 29 (R)

Coliseo de Puerto Rico is also known as José Miguel Agrelot Coliseum


And to cap it all off: