School Shooting Reported @ Santa Fe High School
This is the same type of federal government false flag we saw at Stoneman Douglas High School. First, a fire alarm was pulled, and students began evacuating. All the students thought there was just a standard drill going on when they began to hear gunshots. Witnesses are saying there were "three shots, then loud explosions." That's not just one kid shooting up a school.

"Multiple deaths in shooting at Texas' Santa Fe High School, sources say" = 250 (R)
Today has reduced numerology of 25:

"Multiple deaths in shooting at Texas' Santa Fe High School, sources say" = 317 (RR)

317 is the 66th prime number


Interesting that this is going down in Santa Fe, Texas shortly after Gina Cheri Haspel was named the new director of the Central Intelligence Agency


The abbreviation for the High School is SFHS, summing to 52, matching today's date numerology:


"Gina Haspel" = 52 (RR)
"Ashland, Kentucky" = 52 (R)
"Government" = 52 (R)
---
This is 93 days since the Stoneman Douglas shooting


Recall, the YouTube shooting occurred on the 93rd day of the year.
This measurement also converts to 3 months, 4 days. Today has a life lesson number of 34


---
13 is the primary hoax code:

Notice the high number of police / government SUV's and lack of ambulances. This is the tell-tale sign of a hoax, as the police are more involved in masonry and government bullshit than the paramedics and fire departments are.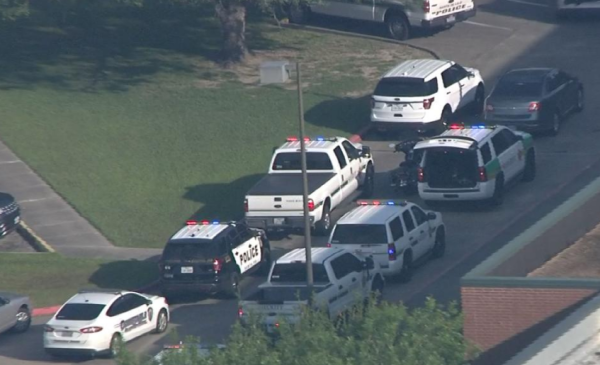 I'm sure I will be doing more work on this in the coming days. It's said that at least 8 are dead as of right now.