Tiangong-1 Falling Back to Earth
In early January, I made this brief post about Chinese space lab Tiangong-1, which was launched and began plummeting back to early in late 2017.
Now, it's finally being said that this station will be re-entering the atmosphere this weekend. CNN Article
The article calls the 40-foot long Tiangong-1 "Heavenly Palace"

I guess what I find most interesting about this weekend is that, whether it's today or tomorrow, it falls 393 weeks, 3 days after its launch.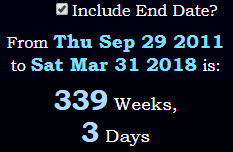 393 is the Jewish gematria of Enneadecaeteris, the Greek word for the Metonic cycle.

The Metonic cycle is made up of 19 years and 235 synodic months. Add 'em together, you get 254


As always, tributes to time and its cycles.
---

In Reduction, "Tiangong" sums to 42
The date it was launched had 42 numerology

That's the date leaving 93 days in the year:


Tiangong-1's diameter is 3.3 meters.