Brazilian Politician Marielle Franco Assassinated By the Numbers
This woman is said to have been assassinated on Pi Day. She was a Brazilian politician and "identified as part of the LGBTQ community".
On this blog, especially recently, I commonly talk about the numbers 38 and 23 stamped into death and killing rituals, mainly for the following reasons:


At the time of her death, Franco was 230 days after her 38th birthday: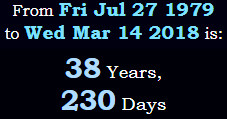 ---
She died on the 73rd day of the year



The date also had 55 / 46 numerology:



---
March 14th is written 3/14 in the United States. As a result, it's called Pi Day, since 3.14 are the first three digits of pi. Franco was a councillor in Rio de Janeiro.



Pi is the equation used to calculate the diameter or circumference of a circle.




She served on the "Municipal Chamber of Rio de Janeiro" = 1120 (English Extended)
"Municipal Chamber of Rio de Janeiro" = 157 (Full Reduction)
157 × 2 = 314
---
The simplest equation to get 3.14 is 22 ÷ 7

See more on how 227 relates to the circle
The 227th prime number is 1433

If you instead multiply 22 by 7, you get a product of 154

Another way to get 154 is by multiplying 14 × 11
On the date she died, Marielle Franco was 14110 days old:





The 206th prime number is 1277
"Marielle" = 170 (Jewish)
"Sacrifice" = 170 (Reverse Ordinal)
---
Franco has 113 birth numerology:

113 is the number of mainstream deception:

This assassination appears to be for the purpose of stirring up more hate and division among the LGBTQ community, which is of course all part of the greater Zionist agenda.
---
So is this a hoax? Let's check for our hoax codes…the primary one is 33





If she's a made-up alias, they certain gave us clues. Check out her birth numerology in relation to her name:




---
Franco was born as Marielle Francisco de Silva on the date July 27th, written here as 7/27



"Francisco de Silva" = 1111 (Jewish)