(Organic Matrix) Sridevi Syncs w/ Yesterday's Decodes
Yesterday, I made two Murder by Numbers posts for George Carlin and "Macho Man" Randy Savage. Shortly after, news broke of the death of Bollywood actress Sridevi Kapoor.

They were born a span of exactly 1370 weeks apart. 137 is the 33rd prime number.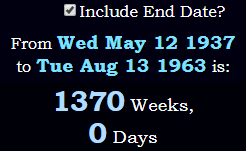 See why 33 is a number of sacrifice.
---
Randy Savage died on the 140th day of the year, leaving 225

Sridevi was born on the 225th day, leaving 140

Savage was 21,370 days old at death:


2137 is the 322nd prime number