Dead Air During Super Bowl 52
Last night, during Super Bowl 52, NBC experienced 30 seconds of dead air nationwide. This was rather surprising…with ads costing an upward of $5 million dollars, this looks like a good chunk of change lost for the network.
Despite going to a 30-second break, having dead air, and coming directly back to the game, NBC had this to say:
"We had a brief equipment failure that we quickly resolved. No game action or commercial time were missed."
It's a flat-out lie; they obviously went to break, with the intention of airing a commercial. Right?
---
This pocket of dead air was a planned ritual, by the numbers.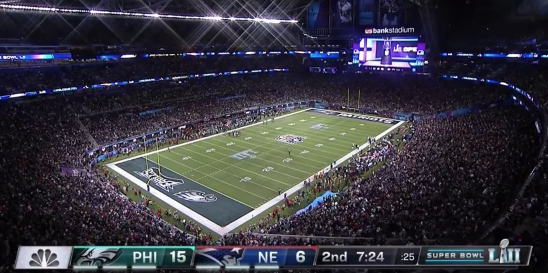 The Patriots had just kicked a Field Goal to pull within 15-6. The Patriots would later finish with 33 points.


The 156th prime number is 911. The Patriots only scored 33 points one other time this season, back in Week 12.
216 is 6 × 6 × 6


---
As for the time left on the game clock, it shows 7:24 remaining in the second quarter. This means there's 2,244 seconds left in the game. This is somewhat interesting, considering the connection to 33, you have repdigits 22, 33, and 44 all in the mix.
---
Relation to Previous Game Delays
On September 17th, a weather delay occurred in Denver, against the Cowboys, with 0:33 on the clock.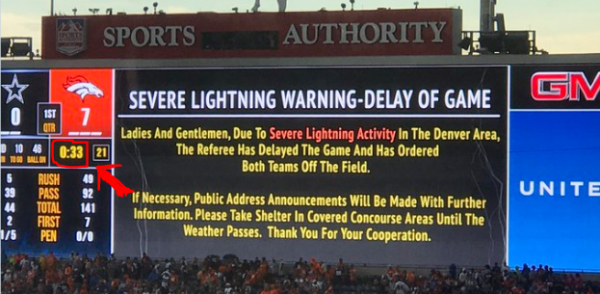 Denver is home to the 303 area code.




This happened 141 days before the Super Bowl.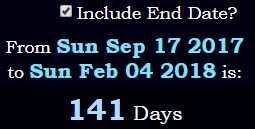 Notice the Broncos have 141 yards of offense when the delay begins.
---
On September 28th, the Packers played the Bears on Thursday Night Football. That game experienced a 47-minute weather delay.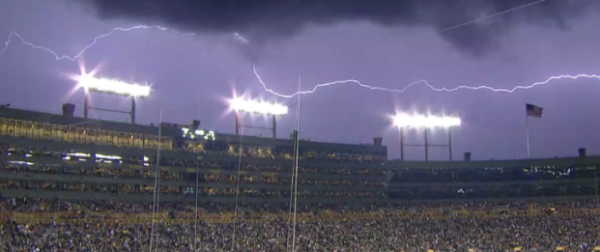 That game was 4 months, 7 days before the Super Bowl.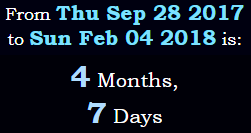 This all ties back to Super Bowl 47, which experienced a 33-minute blackout.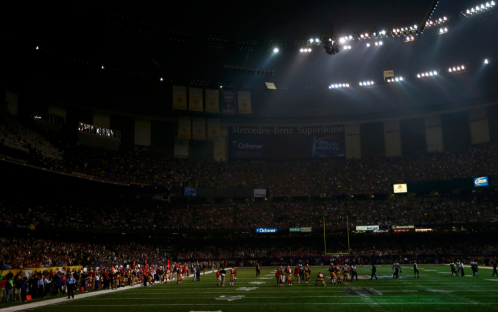 This game featured the 49ers and Ravens. The very next regular season game the Ravens played was ALSO delayed by 33 minutes…in Denver, who had the lightning delay in 2017 against the Cowboys.