Pink Might Not Butcher the National Anthem Tonight
…because she's sick with the flu.
Today's date is written 4/2 in most parts of the world

Pink's age today is 14,030 days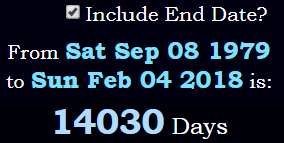 143 is no random number. Remember, the circle is the mark of the Beast.

143 is a reshuffling of 314, the first three digits in pi. 777 is the first number to have Ordinal gematria of 314

The game is being held at U.S. Bank Stadium

7 × 7 × 7 = 343

---
Pink is supposed to sing the National Anthem in Super Bowl 52, which caps off the NFL's 98th season. She was born on September 8th, written in the States as 9/8.
Her real name is Alecia.

She's 150 days after her 38th birthday. The O, a circle, is the 15th letter of the alphabet, a number associated with the devil. The Super Bowl is being hosted in Minnesota.
"Fifteen" = 38 (Full Reduction)
"Minnesota" = 38 (Full Reduction)
"U.S. Bank Stadium" = 38 (Full Reduction)
---





Pink is from Doylestown, Pennsylvania

Revelation is the 66th book of the Bible

"Doylestown, Pennsylvania" = 97 (Full Reduction)
"The Synagogue of Satan" = 97 (Single Reduction)
"Doylestown, Pennsylvania" = 290 (Reverse Ordinal)
"The Synagogue of Satan" = 290 (Reverse Ordinal)
The Beast from Revelation is Time:
"Doylestown, Pennsylvania" = 3065 (Jewish) | 365 days in a year
She has Masonic birth numerology:

"Masonic" = 43 / 115 (Reverse Reduction / Ordinal)